Sandakphu Trek is located in the Darjeeling district, which is the highest region in West Bengal, India. It is at an altitude of 11,941 feet or 3,636 meters. Sandakphu Trek is of 5-6 days, and it takes you through the different picturesque locations of the Sandakphu region. You get to see several varieties of flora and fauna, snow-clad peaks and evergreen forests. Sandakphu trek is one of the oldest and most popular treks in India.

Most of the trek route is along the India-Nepal border. You will find blooming Rhododendrons and Magnolia, which turn the forest with red, pink, and white shades during spring. There are more than 500-600 varieties of orchids in the Sandakphu region that bloom in the spring season. This is the largest concentration of orchids in any single geographical area in the world. Sandakphu Trek route goes all along the Singalila National Park which is home to the Red Pandas. Many trekkers go from Sandakphu to Phalut and hence this trek is also known as Sandakphu Phalut trek. 
A full round trip trek to Sandakphu Phalut takes a total of seven days from NJP or Bagdogra. Sandakphu trek is an easy to moderate grade trek and can be undertaken by anyone who likes to walk, but good fitness is a must as there are long walks every day. Let's get into the complete details of this trek.
Why is the Sandaphu Trek Special?
 In Sandakphu Trek, you get to see grand panoramic views of four highest mountain peaks in the world. All these mountain peaks are of the altitude above 8000 meters.
As you stand on the Sandakphu Mountain, you see Lhotse and Makalu on your left, which are the fourth and fifth tallest peaks in the world. Behind them is Mount Everest – the world's tallest mountain peak. On your right is Kanchenjunga, which is India's highest peak and the world's third-highest mountain.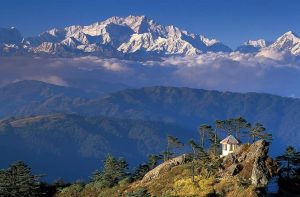 Kanchenjunga stands with its family of peaks that are together known as the Sleeping Buddha because of their appearance. The peaks in the cluster of Kanchenjunga which make up The Sleeping Buddha, are Rathong, Frey Kokthang, Kabru South, Kabru North, Simvo, Mt. Pandim, Jubanu, Narsing and Tenzingkhang.
You can view the Sleeping Buddha for at least 4 days during the Trek subject to weather conditions and visibility. For these views, Sandakphu is a must-do Trek for adventure seekers.
How to reach the base camp for Sandakphu Phalut Trek?
For the Sandakphu Phalut trek, you have to reach the New Jalpaiguri railway station (NJP) or Bagdogra Airport and, from there, travel to Manebhanjan, which is the base camp of the trek.
Manebhanjan pronounced as Mane Bhanjyang by the locals is a small mountain township located about 26 km from Darjeeling and 92 km from Siliguri. It is located at the gateway of the Singalila National Park and near to the border of India and Nepal. Manebhanjan is at an altitude of 1928 or 6,324 feet. Mane means Buddhist Stupas and Bhanjayang in Nepali means Junction, so the meaning of the name Manebhanjan is: the Junction of Stupas".
From New Jalpaiguri railway station or Siliguri, you can get a shared taxi up to Mirik and then take another one to Manebhanjan. From Bagdogra Airport, shared taxis are not available and you need to take a private cab up to Siliguri. 
You can also reach from Darjeeling for the Sandakphu Trek. Manebhanjan is about 26 km from Darjeeling and you will get shared taxis which take about 1 hour 15 minutes to Manebhanjan. Trekkers usually reach Manebhanjan on the previous day and stay at a hotel or homestay. They start trekking the next day early morning. 
What is the Sandakphu Trek route?
From Manebhanjan to Sandakhu, the distance is about 32 km, which can be covered in two or three days of Trek. Experienced trekkers, who can walk for 8-9 hours a day, can reach Sandakphu in 2 days, but most trekkers need 3 days. 
From Sandakphu, trekkers can go further up to Phalut, which is about 21 km away and return from the same route. It is a long arduous trek from Sandakhu to Phalut, but it is easy terrain and can be covered in a single day.
From Sandakphu or Phalut, trekkers can either return by the same route (seldom done) or take an alternative way. A popular return route is Phalut to Srikhola via Gorkey. From Srikhola one can take a shared or a private taxi to Darjeeling or further up to New Jalpaiguri – NJP or Bagdogra.  
Here is the Sandakphu Trek route map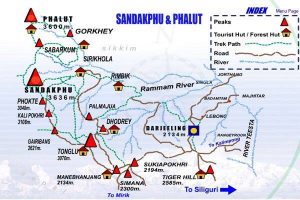 What is the Sandakphu Trek itinerary?
Here is a brief Itinerary of the Sandakphu Phalut Trek:
Day 1: Drive from New Jalpaiguri – NJP / Bagdogra Airport to Manebhanjan (6,324 ft) by car 
Drive distance:

 90 / 112 km

Drive duration:

 4.5-5 hours
Route: Google maps link
Day 2: Manebhanjan (6,324 ft) to Tumling (9,450 ft)
Trek distance: 

9 km

Trek duration: 6-7 hours
Day 3: Trek from Tumling (9,450 ft) to Kalipokhri (10,400 ft)
Trek distance:

 12 km

Trek duration: 6/

7 hours
Day 4: Kalipokhri (10,400 ft) to Sandakphu (11,950 ft)
Trek distance:

 6 km

Trek duration:

 3/4 hours
 Day 5: Sandakphu (11,950 ft) to Phalut (11,811 ft)
Trek distance: 21 Km
Time duration: 8/9 hours
Day 6: Phalut (11,811 ft) to Gorkhey (7,546 ft) 
Trek distance:

 16 km

Trek duration:

 5/6 hours
Day 7: Trek from Gorkhey (7,546 ft) to Srikhola (6,234 ft); Drive from Srikhola to New Jalpaiguri – NJP/ Bagdogra Airport
Trek distance:

 12 km

Trek duration:

 5 hours
Drive distance: 90 / 

126 km

Drive duration:

 6/ 6.5 hours
Note: You need to reach New Jalpaiguri -NJP / Bagdogra on Day 1 latest by 9 am. While returning, you will reach New Jalpaiguri – NJP / Bagdogra on Day 7 around 7 pm. Arrange your travel tickets accordingly.
What is the best time for Sandakphu Trek?
Sandakphu Trek can be done in two seasons. The first season is from April to June when the temperature ranges from 8 to 15 degrees. The second season starts from October and ends in early December when the temperature ranges from -5 to 5 degrees.
The spring season from April to June is the best time for the Sandakphu trek if you want to see the valley in a bloom of Orchids, Rhododendrons and other species of flora. During this time the beauty of the valley is at its peak as it turns into a sheet of red and pink with the flowers in full bloom.
The second season, from October to December, is the best time for the Sandakphu trek if you want to view the mountain peaks under clear skies.To get mesmerizing views of the mountain ranges like the sleeping Buddha, Kanchenjunga, Kumbhakarna, Pandim ranges, Mount Everest, Mt Lhotse, etc then go in in this season
What is the Sandakphu Trek Cost?
Sandakphu Trek cost varies from Rs 6,900 to 12,500 depending upon the organizer and the trek itinerary. Sandakphu trek is also organized by YHAI and their Sandakphu trek package cost is Rs 5,900 for 6 days.
The maximum Sandakphu Phalut trek cost for 7 days itinerary is Rs 12,500.
Note: This does not include travel costs from NJP to Manebhanjan and return.
If you are planning to do on own then here is the Sandakphu trek cost breakup:
Porter charges Rs.800/- per day + Rs.300/- for meals in Sandakphu & Phalut only.
Dormitory at each rest point: Rs.150 to 200 per bed per night.
Rooms are a little higher: Rs.600 to 1000/- per night.
Meals: Lunch and Dinner:  Veg: Rs.150 to 200 approx & Non-Veg: Rs.150-250 Approx per meal.
Breakfast and Snacks: Rs.100/- per person approx.
How to hire a guide for the Sandakphu Trek? 
It is mandatory to have a registered guide or a porter/ guide if you are going for the Sandakphu trek without an organizer. Guides are available at the Highlander Guides & Porters Welfare Association at Manebhanjan. The trails of Sandakphu trek are well marked with signage, and one can easily do the trek without any assistance. But this rule has been made to provide a livelihood to the locals, and it is compulsory.
How to obtain Sandaphu Trek Permit?
Sandakphu Trek Permit is an entry permit to the Singalila National Park, and you require this Permit as the trek passes through this park. This Permit can be obtained from the Forest Department office which is at the roadside just before the steep uphill route that starts from Manebhanjan.
What are the return trek routes from Sandakphu and Phalut?
From the Sandakphu Pahlut Trek, there are multiple options to return to Manebhanjan.
First option:
Take the trail that traces the same path taken from Manebhanjan to Sandakphu. This can be covered in a single day with an early start. It will be 9 hours of almost continuous downhill trek till Manebhanjan.
But trekkers seldom retrace on the same route which they took to reach Sandakphu.
Second Option:
The most popular return route from Sandakphu is via Gurdum to Srikhola. This trail descends through the dense forests of Singalila, which is full of oaks and chestnut trees. The wood is so thick that at some places, even sunlight can't enter the area. If you are trekking in April or May, you will find lots of flowering rhododendron trees on this trail.
The Sandakphu Gurdum trek route is one of the shortest routes to return from Sandakphu as you can reach Srikhola in one day.
The distance from Sandakphu to Gurdum is 10 km, and it can be covered in about 3 – 4 hours. Gurdum is a beautiful and tiny village with just four or five houses. Trekkers take a short break at Gurdum to enjoy its natural beauty. Srikhola (also known as Sirikhola) is about 1.5 hours walk from Gurdum. It is named after a lovely mountain stream of the same name (the word Khola means a stream). Most trekkers stay overnight at Srikhola and take a shared jeep next morning from Srikhola that goes all the way to Darjeeling or Siliguri via Rimbik, Manebhanjan, and Ghoom.
Third Option:
If you plan to trek further along to Phalut from Sandakphu and then return, then you need to check out this option.
This is a much longer route, and it takes two days to reach Srikhola from this route. This route passes via GorkheyVillage, which is a picturesque small village at an altitude of 2400 m/7900.
The distance from Phalut to Gorkhey is 15 Km, and it will take you 5-6 hours to reach. Private lodges and a Trekkers Hut are available for stay in Gorkhey. Start early morning from Gorkey to Srikhhola as you will take around 6 hours to cover this distance of 12 km. Both the trails from Sandakphu and Phalut meet here in Srikhola.
Frequently asked questions
Is direct transport available from NJP or Siliguri to Manebhanjan?
 No. there are fewer chances of getting direct transport from the pre-paid taxi counter to take you directly to Manebhanjan. You need to take a taxi up to Mirik and then change to another shared taxi from Mirik to Manebhanjan.
You may ask some of the taxis standing outside the station, and if you are lucky, one of them may agree to come, but the probability is less.
Is 

direct transport available Manebhanjan to NJP / Siliguri?
No. You won't get any direct shared Jeep/taxi from Manebhanjan up to NJP or Siliguri. You can get a cab up to Sukhiapokhri and you will have to take another one for Siliguri via Mirik. Another travel option is to take a taxi from Manebhanjan heading towards Darjeeling and get off at Ghum, then look out for another option from Ghum to NJP/Siliguri. 
Are Shared Jeeps available from Bagdogra Airport?
No. Ony private taxis are available from Bagdogra Airport. You need to take a taxi from the Airport to the Siliguri taxi stand, which is about 15 km and will take 30-40 minutes. 
If I reach Bagdogra in the afternoon can I reach Maneybhanjan on the same day and start trekking for Sandakphu from on the next day morning?
 It is challenging to reach Manebhanjan the same day if you arrive at Bagdogra airport in the afternoon.
From the Airport, first, you need to reach the Siliguri taxi stand, which will take 30-40 minutes. From here you have to take a taxi to Mirik which is 153 km from Siliguri, and it takes 5 hours to reach Mirik. From Mirik you need to get a shared Jeep to Manebhnajan, but you won't get that transport as after 3 pm the shared jeeps do not ply on this route.
Are tents available on rent in Manebhanjan for camping during Sandakphu Trek?
 Sandakphu Trek is a tea house trek, and camping tents are not available in Manebhanjan or Darjeeling hills.
Can I get trekking equipment like rucksack, sleeping bag or heavy jackets at rent at Manebhanjan? 
No. Manebhanjan does not have shops that rent these types of equipment. You need to carry all these with you before coming to Sandaphu trek.
Are their shops and restaurants in Manebhanjan?
Yes. Manebhanjan has few small shops, which are mainly grocery, stationery and medical stores in the market area. You can buy provisions like mineral water, dry food, medicines, etc. There is no proper restaurant in Manebhanjan, but few low-grade eateries are there around the market area.
Do Indians require a visa for Nepal as the trek route often crosses into Nepal?
No. there is no need for a Nepal Visa for Sandakphu Trek even though the route crosses into Nepal several times. It's a free zone for Indians and foreigners to cross into Nepal and back. There are multiple check posts along the way which are guarded by SSB (Sashastra Seema Bal or Armed Border Force). All trekkers on Sandakphu Trek are subject to identity checks and must produce a valid Photo ID when asked for. All foreigners must carry their passport and have a valid visa for India