Here is a Complete Guide to Chadar Trek from Altitude Adventure India 
The Chadar Trek is a thrilling expedition over the frozen Zanskar river which lies deep in the formidable mountains of Ladakh, India.  It is a trek of epic proportions taken under challenging weather conditions that see temperatures drop as low as -35C in the night. It is regarded as one of the most stunning and exhilarating winter treks across the world. The excursion includes walking on the frozen sheet of ice during the day and camping near the caves during the night.
How to reach the Chadar Trek?
The Chadar Trek starts from Leh which is located in Ladakh, Jammu and Kashmir, India. It happens during the winter months of January and February and the only way to reach in these months is by flight to Leh.
The nearest airport is Kushok Bakula Rimpochee Airport in Leh, which is around 4-5 km away from Leh city. You can take direct flights from Mumbai, Delhi, Jammu, and Srinagar to reach Leh. When you reach Leh airport, you get a cab, which will take you to Leh where most of the guest houses and hotels are located. A taxi from Leh airport usually costs around INR 300 and it will drop you to the guest house.
After three days you will depart for a 2-hour road journey to Chilling, which is 65 km from Leh. From Chilling you will embark on your Chadar Trek adventure to Nerak village and back.
What is the Chadar Trek difficulty?
Chadar Trek height is similar to Leh, which is at the height of 11,480 feet (3500 meters). Any place above 8000 feet you are susceptible to AMS i.e., Altitude Mountain syndrome, especially if you don't have proper fitness. The cold Leh Ladakh temperature which dips till -25 C at night adds to the deteriorating health of trekkers.
This trek is a flat walk along the Chadar with almost no climbing. The challenge is walking in the extreme cold on the ice where night temperatures dip to up to -20 degrees.
Is Chadar Trek for beginners? Is it possible to make it by a zero experience trekker to attempt this best winter trek in India?
Yes, it can be, provided you take certain precautions and have adequate preparation.
Once upon a time, Chadar Trek was considered to be a challenging trek meant only for experienced trekkers. There were few organizers and very little information was known about the Chadar conditions. The proper gear was not available easily for this trek which happens in the sub-zero Leh Ladakh temperature.
But nowadays most of the adventure seekers who come to chadar trek are first-time trekkers. They have never trekked before, they are beginners, yet they are coming for this trek.
Chadar Trek can be done by beginners too,  but you need to take certain precautions before you attempt this dream trek.
First and most important precaution you need to take is proper acclimatization at high altitude if you have to trek in Ladakh. Leh is at the height of 11,480 feet (3500 meters). Any place above 8000 feet you are susceptible to AMS i.e., Altitude Mountain syndrome, especially if you do not have proper fitness. The cold Leh Ladakh temperature which dips till -20 C at night adds to the deteriorating health of trekkers.
You need three days of proper acclimatizing at Leh before you can embark on this epic adventure. But some trekkers take acclimatizing very lightly and depart the very next day after their arrival. These are the ones who find it difficult when they are walking on the frozen river.
We have noticed a few trekkers who had AMS symptoms but didn't want to undergo a medical check. They fear if they are diagnosed with AMS by the doctor and advised rest they may miss the trek.
Most trekkers invest a lot of money on this dream trek for their travel, trek packages, gears for extreme cold and other fees. Hence they don't want to miss out on the experience even if they have AMS. Sometimes they don't even know they have AMS. Unfortunately, some organizers also compromise on the acclimatization and medical checkup aspect. The situation aggravates when these unfit trekkers are on the Chadar, but till that time it's too late.
Fortunately, the Ladakh administration has now regularized the chadar frozen river trek event by bringing in certain precautions and standard procedures for trekkers and organizers.
Getting accustomed to the harsh climatic conditions is the primary difficulty of the Chadar Trek. Secondly, Leh (starting point of the trek) is at an altitude of 11,300 feet above sea level, so you need to be aware of Altitude Mountain  Syndrome (AMS)  and how to deal with it.
How to do be physically fit for the Chadar Trek?
The Chadar trek is long and strenuous and it can cause exhaustion in some trekkers; thus, there is a need for high endurance and expertise. Proper stamina and ability is something that you need to build up before venturing for the Chadar Trek. Cardiovascular training at least four weeks before the trek is critically important. Training must also include strength and flexibility workout.
Training must also include strength and flexibility workout. Click here for our fitness guide to prepare for Chadar Trek.
How do I protect myself from cold during the Chadar Trek?
Carry enough warm clothes and dress in layers to protect yourself from cold. Temperature can plunge to as low as minus 35 C in the night.
Click here to know how to keep yourself warm on the Chadar Trek
Is Chadar Trek safe for girls traveling solo?
Yes. Mountains are much safer than city roads and we say it with conviction. We have lots of solo female trekkers who join us. We ensure that only female trekkers share the tent with other female trekkers.
Ladakh is considered one of the safest place for girls traveling solo in India. The locals are accommodating, caring and respectful to girls traveling solo in Ladakh.
For the trek, you need to take certain precautions just the way other people do for themselves.
Click here to read a blog written by one of our trekkers regarding Chadar trek for girls.  
What are the latest Chadar Trek Rules and Regulations of the Ladakh administration?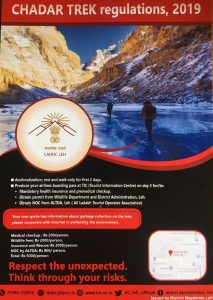 You need three days of proper acclimatizing at Leh before you can embark on this epic adventure.
Hence, the Leh administration has brought three necessary regulations for chadar Trek 2020
Acclimatizing in Leh for three days
Medical Check before the trek up at Leh
Medical Insurance for the chadar trek and rescue
NOC from ALTOA followed by the Permit from the Wildlife Department.
The Permit will be issued to each trekker only after producing the medical certificate.
What are the Chadar Trek Medical, Wildlife Permit and Insurance fees?
The total fees for Medical, Insurance and Altoa NOC comes to Rs 5,000/-.
Here is a breakup of the cost:
| | | |
| --- | --- | --- |
| Sr. | Description | Rupees |
| 1 | Medical Checkup |       200.00 |
| 2 | Wildlife fees |   2,000.00 |
| 3 | Insurance & rescue |   2,000.00 |
| 4 | NOC by ALTOA |       800.00 |
| | Total |   5,000.00 |
What does the medical test (at SNM) for the Chadar Trek comprise of?
On the third day of arrival, Medical test is conducted by SNM doctors. The Permit will be issued to each trekker only after producing the medical certificate.
The two essential things the doctors check are:
Oxygen Level
Blood Pressure
Apart from these two they also ask about your medical history like diabetes, Heart disease, etc. to judge if you are fit enough to complete the trek
But the most crucial is the O2 level and Blood Pressure reading. They will clear you only if these are two are reasonable.
Sometimes they may also advise medication if you have a stomach upset or mild fever.
Once you clear the medical test, you go for your insurance and permits.
Why is the Chadar Trek so special?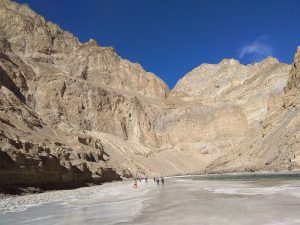 The Chadar Trek trail provides an excellent opportunity to explore the ancient culture of Zanskar, which is a blend of Tibetan and Indian cultures. In addition to this, a trekker can also spot some exotic wildlife species such as blue sheep and ibex that can be found in the frozen surroundings. Success in this strenuous trek offers the trekkers a sense of satisfaction and exhilaration that can is compared to none. If you are an ardent adventurer and ready to encounter the harshest conditions, then you cannot afford to miss the Frozen River Trek.
How was the Chadar Trek discovered?
The Zanskar region in Ladakh is cut off from the main city of Leh during winter from November to February.
This left the inhabitants of Zanskar stranded with no road connectivity in these winter months.  The locals of Zanskar learned to tide over this challenge by using the only other way to move in and out, i.e., by walking on the frozen Zanskar River. The Villagers determined to brave the sub-zero temperatures and challenging terrain to reach nearby Leh for their bare necessities, healthcare and other needs. This seasonal route came to be known as the Chadar as the frozen Zanskar river appears like a sheet (Chadar) of ice.
When the adventure community discovered this traditional route, they wanted to experience the same hardships and challenges which the locals braved. In return for their brave effort, they get to see some beautiful landscapes only possible to see in the icy weather conditions. And thus the Chadar Trek was born.
This trek is also popularly known as the Frozen River Trek. It is considered as one of the toughest treks in India.
Why should you go on the Chadar Trek?
In spite of the hardships, the Chadar Trek is one of the treks you must try. Pick up any travel magazine and you will be able to see countless pictures of trekkers walking on a frozen river, under harsh conditions. This seemingly improbable scenario is the essence of the Chadar Trek. The experience of walking on a frozen river is one of its kind. The trek is very picturesque and the frozen river provides an incredibly serene and beautiful location with a peaceful atmosphere. The real magic exists below your feet and you are unlikely to have seen anything quite as remarkable as this frozen river stretching far away out of sight. Watching the spell-binding panorama as you walk will give you memories that you will cherish forever. This trek is undoubtedly a way to rejuvenate oneself and get relief from the hustle and bustle of daily life.
What is the highlight of the Chadar Trek?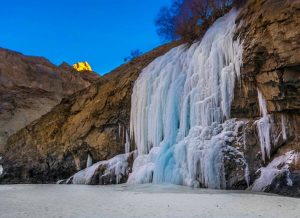 The highlight of the trek is a beautiful frozen waterfall that you will see near Nerak village. Hidden between two hillocks is this natural formation of a 50 feet frozen waterfall masterpiece which can only be seen to be believed.
What are the major destinations covered in Chadar Trek?
The significant destinations that fall on en route the chadar trek are:
Tilat Sumdo – Tilat Sumdo used to be a campsite for Chadar Trek. 'Sumdo' literally means 'the confluence'. At this point, there is a confluence of a small stream with the Zanskar river. There is a short stream meeting the Zanskar at this point. This spot where the confluence of the river takes place offers splendid panoramic views of the Himalayan Range.
Gyalpo – Few kilometers away from Tilat Sumdo is Gyalpo located at a bend of the Zanskar river. This region is rimmed by imposing peaks and trekkers can marvel at the surreal natural beauty here.
Shingra Koma – Further 1away from Tilat Sumdo is Shingra Koma which is now the first campsite for Chadar Trek. It is a scenic spot showcasing rustic beauty that spellbinds the travelers. It is a place with unsurpassed tranquility and mesmerizing scenery.
Tibb – Tibb is a picturesque place offering a fascinating waterfall and cave. This Tibb cave is also used for overnight stay by the trekkers. The vistas of sun-kissed mountains from Tibb are an enchanting sight to witness. This the second campsite.
Nerak – Nerak serves as an endpoint for the 9-day trek. It is a significant base camp for many trekkers. The largest frozen waterfall (approx 5o feet) is also near  Nerak. If you climb up to Nerak Village, you get a see a beautiful mountain village nestled in snowy mountains. You climb up to the monastery and have a gripping panoramic view which that an avid adventurer cannot afford to miss it. This entire region is sheer bliss for a nature lover's eyes.
What to do before embarking on the Chadar Trek?
Inform your family or a close friend about your trek schedule along with the dates. It will be helpful if you need to be evacuated in case of an emergency. Give contact details about the trek organizer and if possible also of the group leader.
Carry your favorite (healthy) snacks with you as you may not like the local food and should not run out of energy due to lack of nutrition.
The first day of the trek you learn to walk on the ice sheet and you tend to skid and fall often getting bruises and cuts. So get you first-aid kit and medicines with you.
What NOT to do on the Chadar Trek?
Do not litter wrappers, tissue papers or unwanted clothes anywhere and spoil the beauty of the route. The trail holds a gripping panorama and it is the responsibility of every trekker to maintain its beauty.
Do not go to the toilets near the river. The local inhabitants use this water for drinking purpose; thus, you should keep it clean. The same water is used for cooking purpose by your kitchen staff.
Respect the tranquility of the zone and do not shout or play recorded music at high volumes.
Never disregard the tips and guidelines provided by the guide during the trek.
Never skip a meal. Afternoon meal provides you with high energy, whereas dinner helps to provide sufficient warmth to your body at night.
Do not remain thirsty for a long period of time. Drink enough liquids in any form like water, tea or soups to deal with AMS.
Frequently Asked Questions – FAQs
What is the best time for Chadar Trek?
The best for Chadar trek is in the winter months of January and February. The Zanskar river starts freezing from December onwards and by the middle of January, it is completely frozen and remains so till the end of February. Typically, the first week of January to end-February is when most groups carry out trekking for the Chadar Trek.
What is the Chadar Trek temperature during the trek?
Chadar Trek temperatures during the day will be -5 to -10 degrees and during the night it will in the range of -15 to -25 degree. These readings may sound scary but it just takes a few days to get acclimatized to these temperatures. If you have layered yourself with proper clothes then you need not worry. During the day you are walking so you will be warm and during the night you will be safe in your tent and sleeping bags.
How much we have to trek each day?
Typically our trek is designed in such a way that we reach our camp by before 4 pm every day. On average, the trekking distance is roughly 10-12 Kms each day and it takes around 6-7 hours for an average trekker to cover that distance.
Is Diamox advisable?
Diamox helps in acclimatization at high altitude. It is safe to take Diamox and we have some trekkers who start the dose even before reaching Leh when they depart from their home. In case you haven't taken Diamox before arriving at Leh, we will check your oxygen level on arrival. If your reading is not regular, then we may advise you to take it.
Who will lead and who all will go along with us?
Experienced trek Leaders lead all our treks. We try and hire from local people only so that they have an excellent opportunity for employment plus they know the terrain and conditions exceptionally well. Other than a Trek lead we in our team we will have local Guides, Cook, Helpers and Porters from the Zanskar region.
How big are the groups?
Typically our group size is around 15-20 trekkers only so that the entire group can get along very well and have a memorable trek with us.
What things do we need to carry?
Here is a comprehensive list of things to carry for the chadar trek.
Backpack (50-60 Ltrs) with Rain Cover
Trekking Shoes. (Preferably Quechua Forclaz Hiking Boots)
Gumboots (Can be purchased in Leh) – 4 Pairs of Full sleeve shirts/T-Shirt – 2 Pairs of Track Pants
1 Pair of Waterproof Pant
4 Pair of cotton socks.
3 pairs of woolen socks.
1 Full Sleeve Fleece
One Down Jacket
1 Wind Jacket
2 Pairs of Thermal Inner
2 Pairs of waterproof hand gloves
2 Pairs woolen Gloves
1 Neck Warmer
Sun Cap
One Scarf
Light towel – Lip Balm – Cold Cream & Sun Screen (SPF 40+)
Water Bottle 1 Lt
Thermos
Headlamp or torch with a fresh pair of batteries
Personal Toilet Kit and toilet paper
Personal Medicine Kit
Dark Sunglasses (U/V protected) – People who were spectacles- Should avoid contact lenses and use photochromatic glasses instead.
Walking Stick (At least one)
Can I offload my Backpack?
We expect all trekkers to carry their backpacks. When you are in the mountains you never know what situation you will be in and that is the reason we suggest our trekkers take their back pack.
If for some reason you are unable to carry your backpack, you can off-load the same by paying an additional charge.
Backpack off-loading charges are to be paid directly to the porter. The porters are locals from the Zanskar region and we want them to earn an additional income for themselves. We will connect you the porters to pay the off-loading charge. They usually take Rs 400 – 500 per day. Partial off-loading is not allowed. You have to pay for all five days.
Here are the criteria for backpack off-loading
The backpack cannot weigh more than 9 kg.
Off-loaded bags will not be suitcases, trolleys or duffel bags. (It should be a trekking backpack)
Decide whether or not to off-load your backpack before the start of the trek. ( Off-loading in between the treks  is not allowed)
Which type of shoes should I buy?
Good trekking shoes and Gumboots are must for Chadar Trek. Gum Boots are readily available in Leh market from Army Canteen shops and almost all trekkers to Chadar trek buy them from these shops. They cost around Rs 800-900 for a pair. You may purchase regular trekking shoes from decathlon or any sports store near to you before coming to Leh.
Click here for a complete guide on shoes for chadar Trek
What if a medical emergency arises?
We carry First aid kit and regular medicines with us and in case of other medical emergencies, we rescue the trekker till the nearest road head. No doctors are available nearby. A vehicle has to be arranged till Leh to get medical facilities. Additional costs are involved for emergencies and they will be borne by trekker only. Before the trek, it's your responsibility to get a medical fitness certificate.
Do you think I should bring some medicines with me?
Yes, you have to bring your medicine kit which includes your routine medicines and following medicines as well. Here is a list of recommended drugs:
Bandage for sprains Plasters/Band-aids
Iodine or water filter (optional)
Moleskin/Second skin – for blisters
Antiseptic ointment for cuts
Anti-bacterial throat lozenges (with antiseptic)
Aspirin/paracetamol – general painkiller
Oral rehydration salts
Broad-spectrum of antibiotics (norfloxacin or ciprofloxacin)
Anti-diarrhea medication
Antibiotic for Giardia or similar microbe or bacteria
Diamox
How many trekkers will be in one tent?
Due to the extreme temperatures, it is advisable to have three people in one tent. We use a three-person tent and for couples, it will be a single tent only.
How do I book a trek with you?
Solo trekkers can book it online at  Chadar Trek by making the full payment.
For GROUP BOOKINGS you can make part payment and book the trek. Balance amount you pay after reaching in Leh.  Click on the Whatsapp icon to get our bank NEFT details.
You get a payment receipt after the payment is made. We will also get an instant confirmation mail after the booking.
Altitude Adventure India is one of the best Chadar trek organizers in India.
Have more questions? Get answers to all your queries instantly. Message Us by clicking on the Whatsapp icon.
Call us at 91-8879607899
Meet us in Leh at Altitude Adventure India, Fort Road, Ladakh -194104