Sar Pass is a beautiful trek that offers a perfect start for beginners who want to experience trekking in the Himalayas. Sar, in the local dialect, means a lake. One has to pass by a small, frozen lake near the summit and hence the name Sar Pass Trek.
Sar Pass is an ideal trek for beginners as it gives exposure to walking in different kinds of terrains and takes to an altitude of 13,800 feet. You get to experience meadows, forests, remote villages, snow-covered mountains, long ridge walks, and slides on snow. It is one of the oldest and well-explored treks in India. Let's get into the complete details of this trek.
Where is the Sar Pass Trek located?
Sar Pass lies in the Parvati valley of Himachal Pradesh, India, and can be reached from Manali. Sar Pass trek starts from Kasol, (which is 78 km from Manali via the Naggar – Kullu road), a popular tourist spot in Himachal Pradesh.
Kasol has long been considered a haven for backpackers from around the globe and is usually packed with large weekend crowds during April, May, October, and November, many of which are the city youth, eager for a slice of the unconventional hippie lifestyle.
There are plenty of stay options in Kasol that cater to tourists and the city youth – offering both pocket-friendly and high-end choices. For food, one can choose from India, Chinese, Israeli, and Continental cuisines.
Why is the Sar Pass trek Special?
Sar Pass trek offers rewards of camping in beautiful meadows, stunning views of snow-capped mountains and reaching a mountain summit of 13,800 feet in the Himalayas. Sar Pass is not a mountain pass, as the name implies but a ridge crossing of approximately 2 Km long, which itself is a record in itself. The descent from the summit starts by sliding on snow, which is great fun and thrilling experience.
What is the Sar Pass trek difficulty level?
The Sar Pass trek difficulty level is easy to moderate. No prior trekking experience is required for the Sar Pass trek, and even beginners can do this trek. Even though the Sar Pass Trek is for beginners, one must be physically and mentally fit for this trek. It is advisable to be prepared for some level of difficulty involving steep climbs, cold weather and long walks in the snow.
 The 'Easy-Moderate' tag is related to the type of terrain, walking distances on each day, technical skills required to reach the summit and risks involved in terms of dangerous portions in the trail.
Sar Pass trek has steep inclines before the summit and an equally steep descent from the top. The air gets thinner above 8,000 feet, and with less oxygen, at these levels, it can cause difficulty in breathing. If one is not physically fit then, it may lead to altitude sickness, which at times can get fatal. Physical fitness is mandatory, and one must follow a regular fitness regime at least four weeks before the trek. This will ensure that the body adapts well to lower oxygen levels quickly during the trek.
What is the best time for the Sar Pass Trek?
The best time for Sar Pass trek is in summer from May to October. During these months the snow melts at the lower base camps, and the meadows have a cover of fresh green grass. There will be still snow at the higher camps and trekkers can get the experience of walking in the snow. Sar Pass trek is not advisable after October as the cold and snow make it too difficult to trek.
How much does the Sar Pass Trek package cost?
The Sar Pass trek package ranges between Rs 6,500 to Rs 9,500 with different organizers. 
The Sar Pass trek cost with YHAI i.e Youth Hostel Association of India is INR 7,875/- per person. The cost includes Food, Boarding, Medical Insurance, and Trekking.
What is the Sar Pass Trek Itinerary?
Here is a brief five days itinerary of Sar Pass trek:
 Day 1: Trek from Kasol to Grahan village
Altitude: 1,700 m to 2,350 m
Distance: 10 km
Time taken: 4-5 hours
 Day 2: Trek from Grahan Village to Min Thach
Altitude: 2,350 m to 3,400 m
Distance: 7 km
Time taken: 5-6 hours
 Day 3: Trek from Min Thach to Nagaru Camp
Altitude: 3,400 m to 3,800 m
Distance: 8 km
Time taken: 5-6 hours
 Day 4: Trek from Nagaru Camp – Sar Pass – Biskeri Thach
Altitude: 3,800 m – 4,200 m – 3,350 m
Distance: 14 km
Time taken: 7-8 hours
 Day 5: Trek from Biskeri Thach to Bursheni and Travel to Kasol
Altitude: 3,350 m to 2,400 m
Distance: 10 km
Time taken: 4-5 hours
Note: Some trekkers camp at Padri and Ratapani and have an additional day in the itinerary
What is the detailed itinerary of Sar Pass Trek?
Sar Pass Trek Day 1: The trail of Sar Pass trek starts from the center of Kasol towards Grahan Village. It is a well-marked trail that passes through thick forests, with the Grahan stream on the left. The path is frequently used by the villagers from Grahan, whom you will meet en route. The gradient is easy to moderate, and one can effortlessly reach graham in 4-5 hours with breaks in between for snacks and lunch. You will see many vendors with makeshift stalls selling refreshments like tea, lemon juice, rhododendron syrup, and bread-omelets! 
Rhododendrons (locally known as buras) grow abundantly in these forests. These are bright red flowers that bloom in spring (June- September) and are collected by the locals and are made into a syrup. Mix water with this syrup to make a refreshing juice to drink that has several health benefits.
There is a campsite after crossing the village where trekkers pitch their tent. There are also options to stay in guest houses in Grahan village along with food. You will find a satellite phone in the village, and you may even get network coverage on cell phones. You will find many foreign nationals staying in this quaint village for several days before proceeding to Sar Pass.
Sar Pass Trek Day 2: From the camping ground at Grahan, take the trail that goes up north towards Min Thach. The trail is steep and leads into a dense forest. The canopy is very thick, and it allows very little sunlight to fall on the ground. After walking on this steep trail for a few hours, the forest opens up to a small meadow. This grassy patch or field is known as Thach in the local language. The villagers from Grahan start early in the morning and bring their cattle here to graze in Min Thach.
Camp here for the night. Dig a trench around the tents to allow the natural drainage of water in the event of rain, hail, or snow.
Sar Pass Trek Day 3: Start early from Min Thach to Nagaru Camp as the weather may spoil post noon. Depending on the season, you may find snow on this trail or after reaching Nagaru camp. Post noon, the path can become slippery due to the melting of snow. The path to Nagaru camp goes up a ridge, and after a few hours, you will find that the tree-line has ended. You can only find patches of grass and shrubs as you climb towards the hill. You will finally reach a piece of flatland on top of the mountain, which is the Nagaru campsite.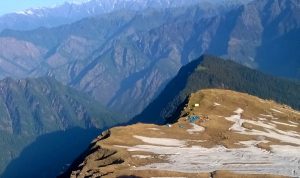 The campsite at Nagaru offers magnificent views of the surrounding mountains. Facing north, you can see tall mountains across the Parvati valley.
To the north-west lies Chanderkhani Pass and the mountain ranges of the Beas valley. To the south is a big hill with a vast expanse of snow, which will lead you to Sar Pass. 
One can spot Min Thach and the village of Grahan down below from here.
Layer up with warm clothes before sundown as it gets freezing in the evening. Have your dinner and retire early to protect yourself from the cold. 
Sar Pass Trek Day 4: Wake up before dawn and get ready for a long trek. The climb from Nagaru to Sar Pass follows the ridge-line in the southward direction and is quite steep. You first need to climb up the small hill seen from Nagaru, followed by a higher elevation, which is much steeper. After climbing for about 3 hours, you will reach the hill and are rewarded with an outstanding view ahead. There is a snow blanket all around, and the entire region is flanked by snow-capped mountains and lofty peaks of the Tosh valley. 
But this is just the beginning as you have not reached the summit yet. This pass is unlike other passes where you have a saddle in the mountain range to cross. In Sar pass trek, you have walk another 2 hours from this point to the summit and then get to cross over to the other side. The last stretch of the summit is very steep and the entire route is buried in more than a foot of snow. 
As you reach the summit, a surreal sight welcomes you of the mountains on the other side of the pass. As you soak in this exhilarating sights, you will soon realize that there is no route to go down. The descent is too steep for hundreds of feet and full of now. The perfect way to get down this steep drop is by sliding in the snow.
You need to take particular caution while going down this snow slide to avoid injuries. Keep all your belongings like phones and goggles inside the bag, keep your legs together, and few inches above the ground. Your elbows should be kept firmly by the side with your walking stick held in front of you.
If you are sliding too fast, then control the speed with your heels or elbows in snow. The slide can take you far as a couple of kilometers. You may have to slide for a few more times till you reach level ground. After that, you walk past snow-covered trees and enter a narrow path which will lead to an open meadow which is Biskeri Thach, your campsite.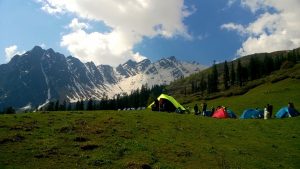 Around Biskeri Thach are beautiful pine forests, and majestic mountains. Go to the end of the grassland and you get to see the villages of Tosh, Pulga-Tulga, Bursheni, and Nakthan in the valley below. 
Sar Pass Trek Day 5: The trail for Barshani starts from a dense forest. After descending in the dense forest for a couple of hours come you will across a tricky patch of twenty feet huge rock. From here you have to rappel down with the help of a rope to reach a stream.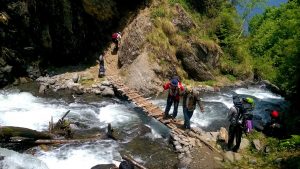 Cross this stream on wooden planks and climb up to a small campsite that has a few vendor tents. Take rest here and continue your descend, which will lead to a big grassland surrounded by trees. The walk from here is one of the prettiest portions of the entire trek, and you will be walking here for about 30 minutes. After a steep descent of about an hour, you will finally reach the village of Pulga.
From Tulga, you cross a bridge on the river Parvati to reach the village of Barshaini, which is connected by road. Barshaini is the last motorable village in the Parvati valley and is the starting point of treks like Kheerganga, Mantalai Lake and Pin Parvati Pass in the Tosh valley. You can get buses or private cabs to Kasol, Bhuntar and other places from here.
Thus comes to end Sar Pass trek, the memories of which would be cherished for long.
Frequently Asked Questions
Where does Sar Pass Trek start?
The Sar Pass Trek starts from Kasol which is a hamlet in the district of Kullu of the Indian state of Himachal Pradesh. Kasol is situated in Parvati Valley, on the banks of the Parvati River
What is the Sar Pass Trek Altitude?
Sar Pass is at an altitude of 4,220 meters which is 13,800 feet above the ground.
What is the Sar Pass trek distance?
Sar Pass trek distance is 70 km starting from Kasol and ending at Barshaini. 
How is the weather during the Sar Pass Trek?
The weather during the Sar Pass trek from May to October is very pleasant at the base camp Kasol. The average temperature ranges between 20 degree Celsius and 35 degree Celsius. 
At the higher camps, the average temperature ranges from 15 – 20 degrees Celcius during the day and can drop below 5 degrees during the night. The evenings are quite cold with temperature ranging between 5-10 degree Celcius with wind chills. 
Do trekkers need to take Diamox for the Sar Pass Trek?
No, Diamox need not be taken for the Sar Pass trek, but it is advisable to carry the tablets with you to be used in an emergency. The maximum altitude of the Sar Pass trek is 13,800 ft, and if you develop symptoms of Acute Mountain Sickness at higher altitude camps, then it may be required. Look out for signs like headache and nausea and take precautions like drinking at least 2- 3 litres of water daily. If the symptoms persist, then you can start a course of Diamox. 
Which types of shoes are best for the Sar Pass Trek?
Trekking shoes which have a good grip on different types of terrain like loose soil, rocks, mud and snow are best for Sar Pass trek. The boots should be waterproof and have high ankle support. It is also advisable to have gaiters along with the shoes as you will be walking in one foot of snow during the summit climb. Get used to the shoes and wear them a few times before the trek to avoid chafing and blisters. Do not wear running shoes or any other type of sports shoes, as they are not meant for trekking. Carry 3-4 pairs of cotton socks and two pairs of woollen socks.
If you miss the Sar Pass trek season and wish to do a winter trek then check out the Chadar Trek in Ladakh in January and February.
Click here for a complete guide for the frozen reader Zanskar trek in Ladakh which can be now be done by beginners as well.