Brahmatal Trek is one of the most enchanting treks in the Garhwal region of Uttarakhand, India. It is an excellent trek for adventure seekers and nature lovers to begin trekking in the Himalayas.  The picturesque beauty of this Trek, especially the views of Mt Trishul and Mt Nanda Ghunti from the summit, makes it one of the most sought after treks in India. These are two 7000+ meter peaks, which are always in your view from the second day onwards of this Trek.
Brahmatal Trek is now regarded as the most famous winter trek in India after the Kedarkantha trek. The Trek passes through sprawling alpine forests of fir, oaks, and rhododendrons as you climb the steep paths till you reach an altitude of 12,100 feet on the summit day. The Trek covers a distance of 22 km till the top, where you can get a bird's eye view of everything around you.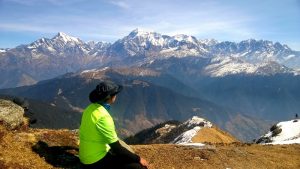 The full grandeur of Brahmatal Trek can be experienced from the top where you get panoramic views of snow-covered mountains of the Garhwal region touching the sky. Let's get into the complete details of this trek.
Why is Brahmatal the best winter Trek?
Brahmatal Trek gives you a rich snow experience during winter. On the first day itself, you walk on snow-covered trails through forests till you reach the frozen Bekaltal lake.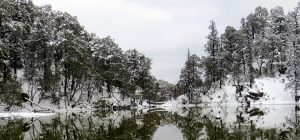 Camping beside the Bekaltal in winter will fill your heart with joy.  Then on the second day, as you climb above the snowline, you get to experience the vast expanse of snowfields on your way to the frozen Brahmatal lake. Finally, on summit day – you see beautiful landscapes and mesmerizing views of the snow-covered Himalayan mountain ranges of Uttarakhand.
With such grand display of snow in Winter, Bramatal is now the perfect winter trek to do in December, January, and February.
Where does the Brahmatal Trek start?
Brahamtal Trek starts from Lohajung, which is a tiny village in the Chamoli district of Uttarakhand and situated around 8,000 feet above the sea level. Lohajung is a base camp for two other popular treks – Roopkund Trek and Bedni Bugyal trek.
Lohajung is deep-rooted deep in mythology, as the locals believe that the goddess, Parvati, fought with the demon, Lohasur, and defeated him at this spot. A village was built at this spot and came to be called Lohajung after the battle or Jung with the Asur (Demon) Loha. There is another mythology in which some locals, believe, that the name arose due to the torrential rains this region. The continuous downpour causes all metallic objects, or Loha, to rust, or Jung.
How can I go to Lohajung from Dehradun?
You can get to Lohajung from Dehradun by bus or jeeps and get to Karnaprayag via Rishikesh. From Karnaprayag, you can get vehicles to Tharali, Debal, and finally to Lohajung.
The distance from Dehradun to Lohajung is 298 km, and it takes around 12 hours to reach Lohajung by road, including halts.
How can I go to Lohajung from Kathgodam?
You can make your way to Lohajung from Kathgodam through some of the famous hill stations of Kumaon region like Ranikhet, Kausani, Gwaldam, and Dewal. The distance from Kathgodam to Lohajung is 217 km, and it takes around 9 hours to reach Lohajung by road, including breaks for snacks and meals.
You can stay for the night in Lohajung village pitching up tents over the verdant fields or in one the lodges.
What is the Brahmatal Trek Itinerary?
Day 1: Reach Lohajung; 12 hours drive from Dehradun or 9 hours drive from Kathhgodam.
Day 2: Trek from Lohajung (7,600 ft) to Bekaltal (9,885 ft); 5 hours, 6.3 km
Day 3: Trek from Bekaltal (9,885 ft) to Brahmatal (10,440 ft); 5-6 hours, 7.2 km
Day 4: Trek from Brahmatal (10,440 ft) to Brahmatal Top (12,250 ft) and on to Khorurai (9,160 ft); 8 hours, 7.5 km
Day 5: Khorurai (9,160 ft) to Lohajung (7,600 ft); 3-4 hours, 3km
Day 6: Drive from Lohajung to Rishikesh or Kathgodam. (start early morning)
What is the Brahmatal Trek Weather?
 December January and February are considered to be the best months for Brahmatal trek. These are cold winter months, and the daytime temperatures of Brahmatal trek range between 5°C to 15°C. In the night, the temperature is sub-zero and can drop up to -5°C.
May to October is the summer and spring months. In these months, the daytime weather of the Brahmatal trek is warm and pleasant. The temperatures changes as per the altitude that you are during the trek. At Lohajung and the first campsite – Bekaltal, the Brahmatal trek weather is pleasant at around 15-20°C and higher camps it is round at about 10°C
Quick Facts
Trekking Distance: 22km
Maximum Altitude: 12,150 ft
Difficulty Level: Moderate
Railway Station: Kathgodam is the nearest railway station
Airport: Jolly Grant Airport, Dehradun
ATM: There are no ATMs at Lohajung. Dewal is the last point before your trek begins, which has an ATM. It's advisable to carry sufficient cash from home or withdraw money in Kathgodam or Dehradun.
Frequently Asked Questions About Brahmatal Trek
What is the best time to go for Brahmatal Trek?
The best time for Brahmatal trek is in the winter months of January and February. This trek can also be done during late March and April when the rhododendrons are in full bloom on this trail. You get to see a variety of the red, pink, white rhododendrons in these months
What is the physical fitness required to do the Brahmatal Trek?
Brahmatal Trek is a moderate level beginners trek, which can be done by inexperienced trekkers as well. But as you will be covering a total distance of 22km with a mix of gradual and steep ascent, you need to prepare yourself for this trek physically. Start with brisk walks, followed by jogging every day for four weeks. Climbing stairs, Swimming, and Cycling help you to keep fit and build your endurance. Do Pranayams to regulate your breathing and increase your lung capacity.
What clothing or equipment is required for the Brahma Tal Trek?
Back-Pack: You will need a good backpack of 40-60 litres with sturdy straps and supporting frame. Rain cover for your backpack is also essential to protect your things from getting wet.
Clothes: Carry at least to trek pants. Wear one pair and carry the other one as a backup. You should have three warm layers to protect yourself from cold climatic conditions during the trek.
Shoes: On your Brahmatal trek, you will cover a long distance on different kinds of terrains. So you need proper trekking shoes which are comfortable and have a flexible sole. Water-resistant trekking shoes that have excellent ankle support are preferred. In places where there is snow, you will need microspikes and gaiters.
Is it possible to do a Brahmatal trek in December?
Yes, it is possible to do the Brahmatal trek in December. It is one of the best months for this trek as the trek routes have fewer trekkers, and the trail is full of fresh snow. The Brahmatal lake is wholly frozen, and it is a fantastic sight to see with less rush of trekkers.
Can I have liquor or smoke during the trek?
No, it is strictly not advisable to consume alcohol or smoke during the trek. Many people have the wrong notion that alcohol helps to keep them warm in cold conditions. Alcohol is dangerous in extreme cold, especially at high altitudes, as it dehydrates the body and causes altitude sickness.
How much distance do we cover on each day during the BrahmaTal Trek?
On each day, the average walking distance is between 5-7 kilometres during the trek. The time taken to cover this distance is between 5-6 hours, including halts.
What is the Brahmatal Trek weather?
The Brahmatal trek weather during the day is pleasant in winter as well as spring. The weather is mostly sunny during the day, and cold winds start after sundown. The temperature drops during the night, and in winter, the night weather is freezing.
Is Diamox advisable for this trek?
No. Diamox is not advised for the Brahmatal trek. This trek can be done without Diamox even by people who are beginners with an average level of fitness. But it is advisable to carry this medicine with you. If you find any symptoms of AMS (Acute Mountain Sickness) like headache, nausea, and vomiting, then you may start the course with a half tablet of Diamox every 12 hours. Do this course till you complete the trek and are back to the base camp i.e Lohajung.
What is the temperature during the BrahmaTal Trek?
The temperature during the Brahmata trek in the winter months is 5°C – 10°C during the day. The temperature falls below Zero up to -10°C in the nights. In the spring and summer months, the day temperature is a pleasant 15°C to 20°C.
Is the Brahmatal Trek safe?
Even though Brahmatal trek is a high altitude trek, it is one of the safest treks. There are no portions during the trek which are risky or places that are exposed to a fall. The slope gradients are easy to moderate, and there is a negligible chance of having altitude sickness.
What medicines do I need to carry with me?
It is advisable to carry a basic first-aid kit and your medications for this trek. Carry Avomine for motion sickness, Crocin for fevers, Ibuprofen for pain relief, Avil for Allergies, Rantac for acidity, Digene / Uni Enzyme for Diarrhea, and Diamox for altitude sickness.
If you miss the Sar Pass trek season and wish to do a winter trek then check out the Chadar Trek in Ladakh in January and February.
Click here for a complete guide for the frozen reader Zanskar trek in Ladakh which can be now be done by beginners as well.