Where is Nubra Valley located in Ladakh?
Nubra Valley is in Ladakh, situated about 160 odd KMs from Leh town.
Diskit is the main administrative headquarters of the Nubra Valley. The Shyok river, a tributary of Indus River, meets the Nubra or Siachen river to form a broad valley that separates the Ladakh and Karakorum Ranges. 
Is Nubra Valley worth visiting?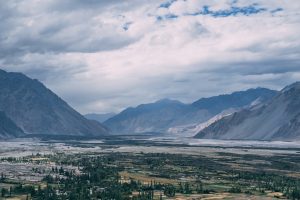 If you are visiting Leh Ladakh for the first time, then you MUST visit Nubra Valley. It is worth visiting for its colorful Majestic Mountains and spellbinding trails. The lovely Shyok river flowing in the central valley will take your breath away. The beautiful landscapes of Nubra valley and delightfully hospitable locals make for an unforgettable experience.
What is Leh to Nubra Valley Distance?
Leh to Nubra Valley distance is about 160 Km. The distance from Leh to Nubra valley can only be covered by road as there are no other means of transport available. The return journey from Nubra valley to Leh can be from the same route or via Pangong Lake. The Nubra valley to Leh distance will increase if you are traveling from Nubra valley to Pangong. The Nubra Valley to Pangong lake distance is 270Kms.
What is the Nubra Valley altitude?
Nubra Valley altitude is 3048 meters, and Nubra Valley height in feet is approximately 10,000 Feet. 
How to Reach from Leh to Nubra Valley?
There are two routes to reach from Leh to Nubra Valley. One is from directly from Leh or Pangong Lake to Nubra Valley.
Most tourists visit Nubra valley from Leh via the Khardung pass,
It is advised not to halt for a long time at Khardung La pass during your road journey as you may get AMS i.e. Altitude Mountain Sickness.
How many days do you need for Nubra valley?
For Leh to Nubra Valley, you need at least one-night two days to witness the mesmerizing beauty of Nubra Valley. In two days, you can cover the major attractions like Diskit, Hunder, Sumur, Panamik, and travel to and from Leh.
You can cover Diskit & Hunder on the first day of your Nubra Valley visit. Stay for the first night at either of these two places. Next day morning, you can do the Bacterian camel rides on Nubra valley sand dunes and on your return journey cover Sumur & Panamik.
To visit Turtuk (highly recommended), you MUST add a third day to your schedule. 
What is Nubra Valley Temperature?
The Nubra Valley temperature is frequently below zero degrees for most of the months except summer. Nubra Valley weather is most pleasant during summer months starting from June to September when the temperature is between 20 & 30 degrees in the day time. During winters, the weather in Nubra Valley is extremely cold, and the minimum temperature can drop down up to -10 degrees. Do check the Nubra Valley temperature today before starting your travel.
What are the Nubra Valley Sightseeing options?
The things to do in Nubra valley are to visit and experience these beautiful places: 
Diskit: Diskit is located about 120 KMs from Leh town and comes before Nubra Valley. It is nestled on the edge of a desert on the other side of the Khardong La while traveling from Leh. Diskit has many monasteries, and one of them has the largest and oldest Buddhist monastery in Nubra Valley.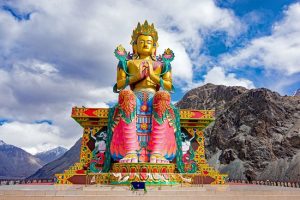 This monastery houses a 106 feet tall Maitreya Buddha statue.

This beautiful statue took 6 years to be built, and His Highness Dalai Lama inaugurated this magnificent beauty in 2010.
There is Lachung Temple close to the monastery, which can also be visited. In Diskit, you can buy Tibetan and Kashmiri artifacts, Pashmina shawls, woolen socks, almonds, apricots, apples, and other things that are unique to this region.
Hunder: It is famous for the bactrian double-humped camel safari over the Nubra valley sand dunes.
Samstanling monastery: It is between Sumur and Kyagar.
Panamik: The last place the permit allows to visit in the Nubra valley is Panamik, which is close to the Tibetan border. It has hot water springs and a sacred Yarab Tso lake near the village entrance.
Turtuk: Turtuk offers a much different landscape and cultural orientation than the rest of the Nubra Valley. You can see apricot trees loaded around the entire village with views closer to the Karakorum Range. If you have time, it is a MUST VISIT place in Nubra Valley.
Warshi – Tyakshi Villages: As per a recent order, Indian tourists are now allowed to travel up to Warshi village in Nubra Valley. This village is ahead of Panamik closer to the Siachen Glacier Base Camp.
Yarma Gompa & Yarma Gonboo monasteries: Both fall in the route to Warshi village.
You don't need any special permits for this route as it is covered under the Nubra Valley permit. Siachen base camp is approximately 50 km from Warshi. 
The Indian Army has decided to allow civilians to trek to Siachen glacier since 2007. Every year the Army takes a mixed group of tourists and military cadets to this base camp. Civilians can explore this option, but special permission is required for this visit.
How do I get to Turtuk Village?
Turtuk Village is about 95 KMs from Diskit. Turtuk has been opened to domestic tourists from 2010 onwards and to foreign tourists as well since 2013. 
The picturesque village of Turtuk is the last village of India before the Line of Control, which borders Pakistan controlled Gilgit-Baltistan region. 
Turtuk was earlier under Pakistan's control, but after the 1971 Indo-Pak war, it has come under Indian governance. It is one of a landscape quite different from the rest of the region and has a different affinity for culture.
What is the Best Time to Travel to Nubra Valley?
The best time to travel to Nubra alley is in May, June, July, and August, which is the peak tourist season in Ladakh. 
You will find several accommodation options in these months.  
In April, some guest houses do open up, but the availability of food remains a challenge.
In January to March, Nubra Valley remains mostly shut down due to cold snow conditions. Nubra Valley in April is partially open with few guesthouses catering to tourists, but not many restaurants are open, and food choices are limited.
In the months from October to December, cold winter starts to set in and only a few options are available to stay and travel in Nubra Valley. 
What is Leh to Nubra Valley Taxi Fare?
The Leh to Nubra Valley Taxi fare is listed below.
| | | |
| --- | --- | --- |
| Leh to Nubra Valley Taxi Fare | Taxi Rate (XUV/Innova) INR | Tempo Traveler INR |
|  Leh to Nubra Valley 1 Day |                                     8,858.00 |                    10,494.00 |
| Leh to Nubra Valley in 2 Days (Diskit, Hunder) |                                   10,734.00 |                    11,593.00 |
| Leh to Nubra Valley in 2 Days (Diskit, Hunder, Sumur, Panamik) |                                   12,784.00 |                    13,808.00 |
| Leh to Nubra Valley – Pangong Lake via Shyok in 3 Days |                                   20,373.00 |                    24,449.00 |
These are indicative fares,  Do check the latest fares on arrival in Leh.
Hotels in Nubra Valley
Some of the best Nubra Valley hotels are:
Stone Hedge Ladakh Traveller rating: 5.0/5
 Hotel Real Siachen Traveller rating: 4.5/5
 The Mountain Camp Traveller rating: 4.5/5
You can book hotels under different sets of budgets. 
You also have the option to stay in camps in Nubra Valley.
Nubra Valley camps are very famous and are available in the budget of Rs 2000 to Rs 3000. Most of the Nubra valley camps are near Hunder around the famous sand dunes and camel rides.
Frequently Asked Questions
Do I need a permit for Nubra Valley?
Yes. Nubra valley is currently under the supervision of the Indian military because of its proximity to Siachen base camp. Do get your Inner Line Permit to visit Nubra Valley before your head out.
All foreign nationals visiting Nubra Valley have to get a protected area permit. 
Can I visit Nubra Valley on the first day of my arrival in Ladakh?
It is advisable to acclimatize for two days in Leh city before heading out to Nubra valley to avoid AMS i.e Acute Mountain Sickness.
Can I travel from Nubra Valley to Pangong Lake?
Yes. If you wish to combine Nubra Valley and Pangong Lake  then there is a route between Nubra Valley to Pangong Lake. Several tourists have started using this route and travel directly to Pangong Lake and it is highly recommended.
Are there bus services from Leh to Nubra Valley?
Yes. There are bus services that run within Nubra Valley and several buses ply between Leh to Nubra Valley. 
What is the Mobile connectivity in Nubra Valley?
BSNL, Airtel, and Jio Postpaid Connections work in most parts of Ladakh, including Nubra Valley, with some loss of signal at few places. BSNL is the best service provider, followed by Airtel and Jio. Please note that Vodafone (Prepaid & Postpaid) doesn't work in Ladakh.
Can I travel from Leh to Nubra Valley during Chadar Trek?
Chadar Trek happens during the winter months of January and February. During these months the road to Khardungla may be closed due to snow at the high passes. If it is open there is a possibility of traveling from Leh to Nubra Valley but you should travel only after completing your frozen river Zanskar trek. You should not go to Nubra Valley during your first three days of acclimatizing in Leh. This is to avoid falling sick and failing in the medical test of Chadar Trek. Do keep an extra day in your travel itinerary for contingencies if you are traveling to Nubra Valley.
Conclusion:
When you visit Leh Ladakh, you must visit Nubra valley. It is a must-have a place to visit, and I am sure when you visit Leh Ladakh, this one surely is not the place you would like to exclude from itinerary of Leh Ladakh trip. 
We hope the above information will be useful for your upcoming trip to Ladakh.