Chadar Trek 2020 Safety Update
Chadar Trek opened

Chadar Trek opened with a shortened route.
Our second batch of Chadar Trek successfully completed the Trek with a shortened route. They spent four days on the Chadar.
They departed on 15th January and arrived on 18th January 2020 with fond memories. (For the day that they missed – because of the trek suspension, we arranged another day trip for them)
11th January 2020 Batch
ALTOA President gives okay for Chadar Trek condition to resume from 15th January 2020
ALTOA president visits Chadar and gives okay to resume from 15th January 2020.
ALTO President Video
Chadar Trek is suspended for two days on 13th January & 14th January 2020
Chadar Trek is suspended for two days i.e 13.01.2020 and 14.01.2020.
This decision was taken by the Ladakh Administration as there was a certain portion between Nerak and Tibb cave where the chadar is not in good condition.
Two groups of Chadar Trekkers who reached the Nerak campsite were not able to return back as there was too much water on the way and they couldn't cross it. They have been accommodated at Nerak village which is just above the frozen waterfall.
These 41 trekkers are safe and all necessary arrangements have been made for their comfortable stay at Nerak.  Ladakh administration is in constant touch with them and planning to get them back to Leh via different means.
In these 2 days, i.e 13th and 14th January, the administration will do the assessment of the Chadar condition and then give further notification to resume the Chadar Trek.
All our trekkers of the first batch i. 4th January 2020 successfully completed the trek and were back in Leh on 11th January.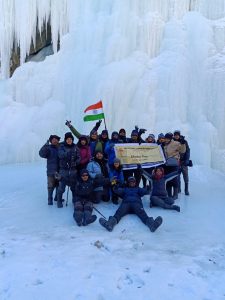 04th January 2020 Batch
Almost all of them had return flight the next day and have reached their home.
Our 11th January batch departure is on hold for one day.
Rest all batches we plan to do as per schedule.
Chadar Trek-2020 flags off with the first batch of tourists
Leh, Jan 6, 2020: In Ladakh, the first batch of tourists for Chadar Trek-2020 was flagged off by the Leh Hill Council Chairman and Chief Executive Councilor Gyal P. Wangyal from Leh today.
On the first day of Chadar Trek around 90 tourists left for this adventurous trek.
CEC Wangyal said that elaborate arrangements have been made by the District Administration to facilitate tourists coming for Chader Trek this year.
He said that facilities like satellite phones for communication, two Rescue Helipads to tackle emergency cases, deployment of State Disaster Response Force teams along the trekking route, Indian Air Force teams in case of emergency, regulating of waste by Wild Life Department, were already put in place for the Chadar Trek.
Mr. Wangyal also interacted with the tourists and wished them a safe and joyful trek. He also inspected ongoing registration and mandatory medical check-up for tourists going for the trek at Tourist Information Centre in Leh.
Today, till afternoon about 205 tourists have gone through mandatory medical check-up out of which more than 100 have registered themselves for Chadar Trek. Ladakh news update after Union Territory Announcement
New source courtesy http://newsonair.com/Main-News-Details.aspx?id=377266
Leh, Jan 5:
Advisor to Lt. Governor, Ladakh, Umang Narula convened a meeting to review the preparations for Chadar Trek 2020.
Commissioner Secretary Tourism Rigzin Sampheal, Divisional Commissioner Ladakh Saugat Biswas, IGP Ladakh S.S Khandare and DC/CEO, LAHDC, Leh Sachin Kumar and other senior officers from Administration, Army and Air force participated in the meeting.
The Advisor was briefed regarding the preparations for Chadar Trek 2020 made by the Administration, with the main objectives of ensuring the safety of the trekkers and mitigating the impact, of the trek on the environment. IGP Ladakh informed that mobile wireless handsets would be provided to all groups to ensure that they remain in constant communication.

The Advisor was informed that two rescue Helipads will operate from Tiv and Shingra, en route the trek to deal with medical emergencies. Adm. Commandant Stn. Hqr. LSA 14 Corps assured that Army will activate the General Hospital, Helipad of the army during the entire trek period to receive emergency cases.
A decision was taken to deploy SDRF along with trained hired locals to undertake the rescue operations in coordination with the District
Administration and Air Force. The Advisor instructed mapping and cordoning off of vulnerable sites along the trek where the formation of ice is less or weak.
He instructed that an SOP should be issued to ensure the safety of the trekkers, which should cover all aspects such as Communication, First Aid, GPS, Smoke Candles and Orange Cloths for all tour operators besides other health and safety measures. It was also decided that the Health Department should devise an Advisory for Hypothermia cases which should be followed by the trekkers and their guides.
It was informed that the Wild Life Department is already regulating the waste footprint of the trekkers by taking steps to ensure that the trekkers collect waste and bring it back on their return from the trek. The Advisor directed the Wild Life warden to strictly ensure the same.
Regarding the disposal of human waste, it was informed that pre-fab toilets with deeply dug pits are installed along the trek to ensure the safe disposal of human waste. The Advisor suggested that bacterial intervention should be attempted to ensure the decomposition of human waste. Chadar Trek 2020 batches will happen as per schedule.
New Source: https://www.dailyexcelsior.com/advisor-narula-reviews-preparations-for-chadar-trek/
Altitude Adventure's first batch arrives on 4th January 2020 Leh. It will leave for Chadar Trek on 7th January.
We have Chadar trek 2020 batches on the following dates :
4th January 2020 ( Left for Chadar Trek on 7th Jan 2020 from Leh)
11th January 2020
18th January 2020
25th January 2020
1st February 2020
8th February 2020
15th February 2020
For Group Bookings –
Pay a token amount and book your trek. The balance amount you can pay on arrival in Leh. 
Altitude Adventure – Chadar Trek 2020 Update
Chadar Trek in Ladakh is a high altitude trek.  The altitude of  Chadar Trek is  3,450 meters or 11,316 feet.
At this high altitude, some travelers may suffer from high altitude mountain sickness. For the safety of travelers and trekkers, the Ladakh administration has planned an active role for the upcoming Chadar Trek 2020. They have ensured that satellite phones, medical facilities and doctors are available during the chadar trek 2020.  Doctors will be available at each campsite to attend to trekkers having health issues or having injuries during the chadar trek.
The campsites where these facilities will be available are Shingra Koma, Tibb caves and Nerak. In case of emergency, rescue helicopters can be called for using the satellite phones and the affected trekker evacuated for further treatment at Leh.
These arrangements have increased the efficiencies,  addressed medical & safety concerns and enhanced rescue operations for trekkers visiting the chadar trek 2020.
This will be a boon for trekkers as many were concerned about the chadar trek safety.
Recently the Ladakh administration conducted a workshop on the safety and cleanliness of Chadar Trek. This was done to ensure efficient implementation of the new regulations put in place for chadar trek 2020.
This workshop was attended by more than 50 guides and around 10 travel agents.
DC/CEO, LAHDC, Leh, Avny Lavasa presided over the workshop. Assistant Director Tourism, Wildlife Warden, DySP SDRF, President ALTOA and representative of Adventure Sports Cover 360 Degree were also present at this workshop.
The main objectives of this workshop and the new regulations were the safety of trekkers and the protection of the environment at Zanskar. In the past few years, there have been cases of loss of life during the Chadar trek and harm to the fragile environment of the Zanskar region. This made the Ladakh administration to take these proactive steps.
During the workshop special stress was given on the need to bring professionalism and seriousness by implementing a streamlined mechanism to operate Chadar Trek 2020 considering the tough conditions like high altitude and extremely cold temperature issues in Leh.
Wildlife Warden, Pankaj Raina apprised the participants about the regulations, facilities created and the steps to follow the procedures.
President ALTOA spoke about the single window facility provided in Leh at TIC for a pre-medical check-up, insurance, wildlife permit and ALTOA NOC. He also informed about the three days mandatory stay in Leh with a pre-medical check-up on the third day. He also told about smart rescue card for tourists and I-card for local guides, helper, potter, etc to avail any kind of free medical facility during the trek.
Headed by DySP, SDRF Sonam Dorjey a team of SDRF presented a demonstration on rescue in case of spinal injury, hypothermia, fracture and cardiopulmonary research station and informed about do's and don'ts in case of any kind of accident or illness.
Everyone agreed that regularization of Chadar trek will also ensure quality tourism and urged
We at Altitude Adventure are committed to being the best Chadar trek organizers by following all the regulations and will ensure quality tourism.
(image source http://news.statetimes.in)
Book your Chadar Trek 2020 here.
For a Beginners Guide to Chadar Trek Click here.
Have Questions? Get answers to all your queries instantly. Message Us by clicking on the Whatsapp icon.
Call us at 91-8879607899
Meet us in Leh at Altitude Adventure, Fort Road, Ladakh -194104