Why is  Rohtang Pass, Manali famous?
Rohtang Pass in Manali is one of the most beautiful passes in the Himalayan region. It is renowned for its astonishing beauty and thrilling road journeys.
Rohtang Pass is known as the gateway to Lahaul, Spiti and Ladakh regions. Tourists visit this pass to view the beautiful landscapes and have an experience of snow even in the summers.
What is the Manali to Rohtang pass distance?
The Manali to Rohtang pass distance is around 51 km.
What is the Rohtang Pass height?
Rohtang pass altitude is 3,978 m. Rohtang pass height in feet is 13050.
What is the Rohtang pass weather?
Rohtang Pass can be closed due to adverse weather conditions. It is important to check the weather conditions before leaving from Manali. Whenever it is closed due to bad weather conditions, tourists are allowed to visit up to Marhi, which is 35 km from Manali. Lush green meadows surround Marhi, and it is equally famous as the Rohtang Pass. You will find several small and medium-sized restaurants in Marhi. 
What is the Rohtang pass temperature?
The Rohtang pass temperature during summer is between 20 & 32 degrees. During winters the minimum temperature can drop down up to -2 degrees and the maximum temperature in Rohtang Pass temperature can go up to 18 degrees.
Best time to visit Rohtang Pass is from May till October. If you are a biker than the Rohtang pass in May is not a good idea. You should visit Rohnatng pass anywhere between June and August.
How to travel from Manali to Rohtang pass?
You can travel by the Manali to Rohtang pass bus or hire a taxi.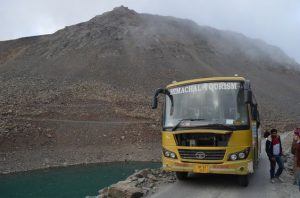 HPTDC (Himachal Pradesh Tourism Development Corporation) has two daily buses for the Manali Rohtang Pass Journey which start from Manali in the morning, around 8 am. HPTDC buses are available on all days except Tuesdays as Rohtang Pass is closed for tourists on this day. book your HPTDC ticket in advance at the Himachal Tourism office located on Mall Road 
HRTC (Himachal Road Transport Corporation) buses are available on every day. There are three daily HRTC buses from Manali which go to Keylong via Rohtang Pass. They leave early morning as 4, 5 and 6 am.
HPTDC buses are for tourists, and they operate from Manali to Rohtang Pass and back whereas the HRTC buses are for locals for their daily commute. You will have to look out for another bus to return from Rohtang Pass to Manali.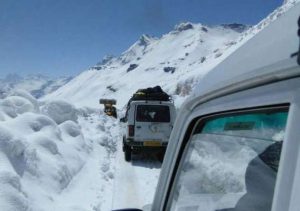 If you would like to hire a taxi for the Manali Rohtang Pass journey, then you can book it at the Himachal Taxi Operators Union office at the Bus stand or HPTDC office at Mall Road.
Manali to Rohtang pass taxi fare is anywhere between Rs. 1200 to Rs. 1600 depending upon the type of vehicle you chose.
How to get the Rohtang pass permit?
An online booking facility is now available for tourists to obtain the Rohtang Permit easily.
Permits are obtained online in these two time-frames:
(i) From 10:00 am (200 Diesel Vehicles Permits and 400 Petrol Vehicle Permits)
(ii) From 04:00 pm (200 Diesel Vehicles Permits and 400 Petrol Vehicle Permits)
What is the website to issue Rohtang Pass Permit online?
The website link for Rohtang Permit online booking is –  https://rohtangpermits.nic.in
For complete information of Rohtang pass permit online – Click here
What is Rohtang pass opening date 2020?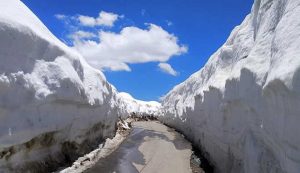 The Rohtang pass open date is June 1.
The operation to clear snow from the roads is launched by the BRO in March every year. The snow-clearance operation for the entire Manali Leh road lasts till the end of May after which it is open for travel.