Altitude Adventure  – Chadar Trek Update
Confused about what shoes to buy for your upcoming chadar trek?
Actually, what you wear at the chadar frozen river trek totally depends on the condition of the chadar. It depends on how the chadar is formed in the current season. Also, the condition of chadar changes every day. It may be totally different on your return journey compared to what you experienced in your onward journey.
When the chadar is formed well, most part of the river is completely frozen and hard. Sometimes (depending on the season) or some places the chadar is not formed well and it might be slushy i.e the top portion is not hard but wet with loose snow or melted ice. Sometimes the slush is too watery and these places can have up to 1 feet deep water which you need to cross.
I did the Chadar trek in January 2018 from Altitude Adventure who are one of the best chadar trek organizers. Based on my experience i can tell you that it is advisable to take 2 types of footwear i.e Trekking shoes and Gum Boots.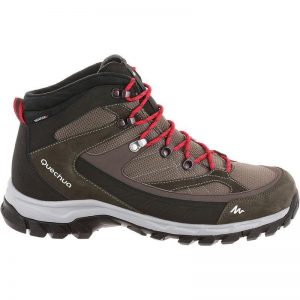 Trekking shoes: You can wear the Forclaz 100 men's ankle-length hiking boots or similar. These are water-resistant and protect you from the cold to some extent and you are comfortable walking in them. At certain places the ice is slippery and you have to take precautions to avoid falling on the ice because of which your pace may slow down my. Get an ice cleat from one of the local shops and then you will be much more comfortable.
You may buy a better pair from one of the shops in Leh market and it may be handy for you especially if you are going to walk in shoes.
Shoes are also very useful when you reach your campsite to walk around as most of the area around the campsite is dry and some places have rocks or sand.
During your  Chadar trek, if you may have to hike up and then go down a hill to reach the Nerak frozen waterfall and these shoes will be really useful over that stretch.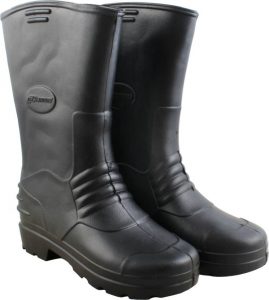 Gum Boots: Almost every other person on the chadar walks in gumboots. And there are good reasons for using them.
Gumboots give you a good grip and protect you from skidding on the chadar. You can walk up to 1-foot deep water in gumboots and yet your feet will be dry and warm.
They are available locally and cheap. There are at least 3 shops selling these boots in Leh market and all of them are open in winter. Buy your warm socks too from there. These socks are far better than the branded ones when it comes to keeping your feet warm.
It will take you a while to get used to the gumboots and initially you will walk a bit slow. But after some time you will get used to them. You will be pleasantly surprised that your feet are quite warm in these boots. Some people may in fact sweat inside the socks after a long day's walk because there is no air circulation in the gumboots. (If you are one of them then put your socks in your sleeping bag when you go to sleep and in the morning they will completely dry).
Put an identification mark on your gumboots, as most trekkers are wearing the same type  (black) color gumboots. Because when you have removed your shoes for the day and searching them to wear next day morning it will be a bit of a challenge to identify which one is yours. 🙂
Please note that maximum gumboots size up to 10 or 11 only is available in Leh. If you have big feet then you won't get gumboots of your size in Leh. Carry your own shoes before reaching Leh for the chadar trek .
Have Questions? Get answers to all your queries instantly. Message Us by clicking on the Whatsapp icon.
Call us at 91-8879607899
Meet us in Leh at Altitude Adventure, Fort Road, Ladakh -194104