Roopkund trek takes you to Roopkund Lake which is also referred to as the 'Lake of Skeletons' located at 5029m above sea level.
This lake has a pile of skeletons at its periphery which are visible when the snow melts during summer. Roopkund Lake is approximately 7 feet deep surrounded by snow-clad mountains, rock-strewn glaciers and is frozen for the most part of the year.
Rookund Lake is also known as the mystery lake because of the discovery of a pile of skeletons and various mythologies and proposed stories surrounding their presence at such a high altitude.
It is a matter of bewilderment since it was discovered by a forest ranger in 1942.  According to the legends, the skeletons are of a Kannauj King of 9th century AD who came for a pilgrimage of Mount Nanda Devi with his queen and other pilgrims. During their pilgrimage, there was an unexpected hailstorm and apparently, they got drowned in this lake.
Roopkund trek is now one of the most popular treks in India because of its natural surroundings and astounding beauty. It starts from Lohajung ( 213 km from Kathgodam ) in Uttarakhand and follows the trail from  Didina, Tolpani, Ali Bugyal, Bedni Bugyal, Patar Nachauni, Bhagwabasa, Kalu Vinayak Shrine and ultimately reaching to Roopkund Lake.
The beautiful and unique landscapes are almost picture perfect and make it a sought after trek in India.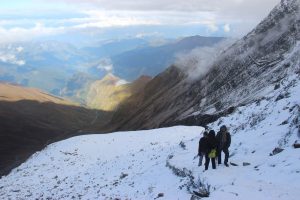 Roopkund trek has got everything going for it. Deep virgin forests with oak trees, gurgling streams, beautiful campsites, miles of undulating meadows, snow and ice and the This trek is like a roller coaster that cuts across dense forests with oak trees, gurgling streams, awesome campsites, green pastures, alpine meadows, and snowfields.
It offers mesmerizing views of snow-capped peaks of the Himalayas and you can get close to Trisul (7120 meters) and Nandaghunti (6310 meters) during Roopkund trek.
The best time or season for Roopkund trek is from May to June (before the monsoons)  or from August to October (after the monsoon). At both the season, you can experience different beauties of this trek that will simply blow your mind.
You need a permit from the forest department to go to Roopkund Lake.
Roopkund Trek in different seasons:
Roopkund trek from May to June: During this period the last leg of the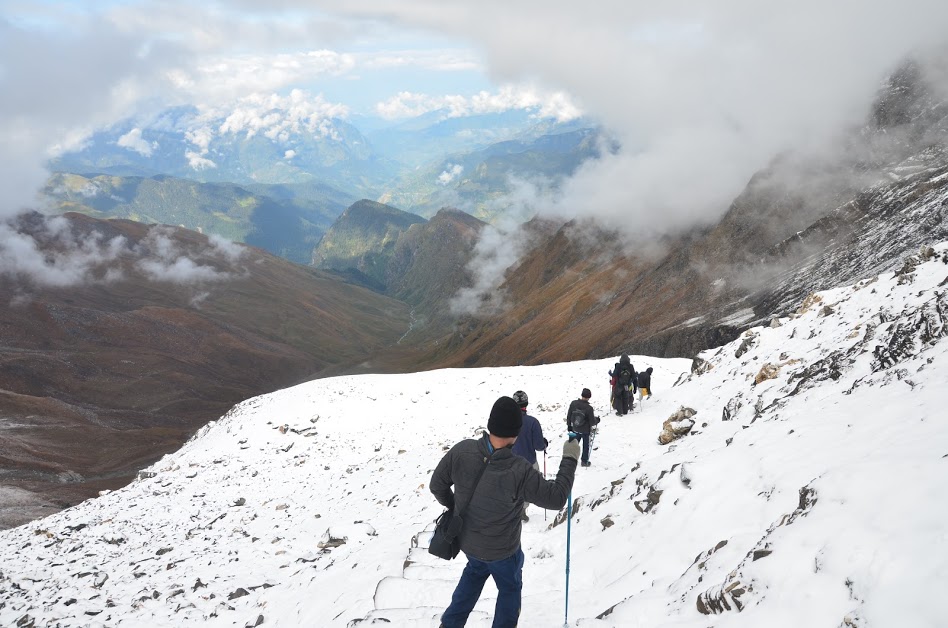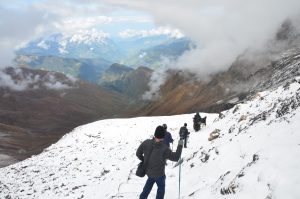 trek i.e. around 4-5 km stretch is completely covered with snow. Trekkers who attempt during this period will require proper trekking gear and should attempt it with an experienced guide only or a trek organizer. It is not advised to do this trek solo during this period. If you plan to go independently then it will be challenging to find your path as you may have to cut through the snow to make your way.  Even if you go with the assistance of a guide you need to fully prepared for a snow trek. Also in month of  May, keep a buffer day as it may take an additional day depending upon snow condition on the last leg to Roopkund Lake.  It is advisable to wait till the snow melts and let other trekkers make the trail for you. Independent trekkers should plan the roopkund trek after June.
Roopkund trek in July: This is the peak monsoon season and this regions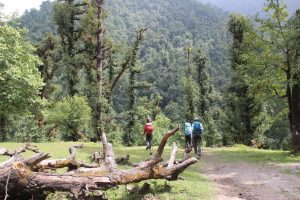 receives heavy down pour resulting in landslides and flash floods on way to Lohajung which blocks the road many times. But once you are in Lohajung, then Roopkund trek is not a problem as it usually doesn't rain much at higher altitudes. It's very unlikely that it will rain at Bedni bugyal and beyond.
Guides are available even in this season as they need work so they will be ready to come with you. Though July is relatively easy as snow melts and it clears the trail it is advised to have a guide with you.
Roopkund trek in August-September:  
This is the best time and peak season for roopkund trek. Its summertime during these months in the Himalayas and the grazing ground and pastures around Bedni are transformed into flowering meadows. The entire landscape is a riot of colors and splendid views. The trail is clear and even first-timers can find their way comfortably right up to roopkund lake. Summer time is most pleasant to trek and trekkers have a great time enjoying the green pastures of bedni bugyal.  As this is the peak season you will have many (hundreds of) trekkers for a company and you will definitely not be alone. But these two months are the most appropriate months for those who want to do Roopkund trek without a guide and want to experience pleasant weather. Roopkund becomes an easy trek during these two months of August-September and lack of oxygen at high altitude is the only challenge that trekkers will face.
Roopkund in October: During this month it starts to snow in this region.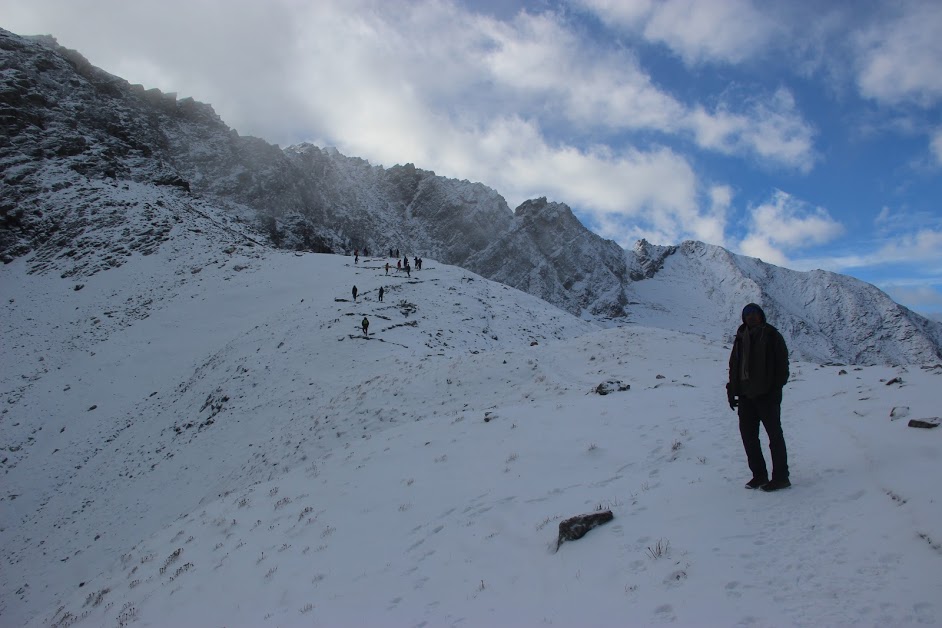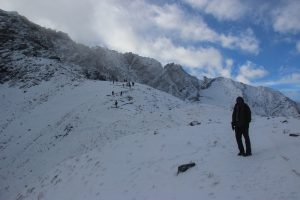 The temperature drops considerably and the cold weather is a major challenge this month. October is not a good time for solo trekkers to do roopkund trek independently. And a certain level of preparedness for snow is a must even if you are going with a guide. So, if someone wants to experience snowfall then October is the best time for Roopkund trekking,  but be prepared for snowstorms as well. The weather can suddenly turn hostile and you will not be able to pitch your tents around Bhagwasa as it will be full of snow.  Nights are pretty restless in the extreme cold and you may not enjoy a good sleep.
Things to carry on Roopkund Trek if you are planning to do independently:
Tent, Sleeping bag, Mat, ice axe, crampons & ropes (depending upon season)
Ration: Vegetables, Rice, Salt, Tea Premix, pulses, Oil, Maggy, Biscuits, Snacks, Chocolates, Dry fruits, Glucose, Multivitamins, and other food supplements.
Vegetables are available at Wan/Lohajung and kerosene, oil, stove, etc can be purchased or rented as well from these places.
Trekking accessories like sleeping bags, tents, ice axe, crampons, ropes and even shoes are also available on rent from Wan or Lohajung.  But preferably get your own trekking shoes and sleeping bags as they may not be of good quality
Typical Itineraries for Roopkund Trek: People mainly use two routes for Roopkund Trek. The first route begins at Didna while the second begins at Lohajung. Regardless of the route you choose, you will get plenty of help from the locals as well as guides.
First route and Itinerary: Wan-Bedni Bugyal – Patal Nachauni- Kalu Vinayak- Bhagwabasa (1 km) – Roopkund Lake.
No. of Days: 4 days &, 3 nights
Route: Wan-Bedni Bugyal (12 km)- Patal Nachauni (5 km)- Kalu Vinayak (3 km)- Bhagwabasa (1 km)- Roopkund Lake (4 km).
Itinerary: For the first night, you will be staying in Bedni Bugyal and the next overnight stay option can be Patal Nachauni or Bhagwabasa depending upon the availability of green huts, weather, endurance level. After doing Roopkund, next night can be spent at Patal Nachauni or Bedni Bugyal and then you can descend down to Wan next morning.
Second route and Itinerary: Lohajung – Didina – Ali bugyal – Bedni Bugyal – Patal Nachauni – Kalu Vinayak – Bhagwabasa – Roopkund Lake.
No. of days: 6 days, 5 nights
Route: Lohajung – Didina – Ali bugyal – Bedni Bugyal – Patal Nachauni – Kalu Vinayak – Bhagwabasa – Roopkund Lake.
Itinerary: On this route, you will be spending the first night at Didina and then follow the schedule mentioned for Route one. If you are descending down to Lohajung then this route will add 2 extra days and nights.
Many trekkers do it in a circle such as:
Lohajung – Didina – Ali Bugyal – Bedni Bugyal – Patal Nachauni – Kalu Vinayak – Bhagwabasa – Roopkund Lake and while coming back return to Bedni and then to Wan.
Number of Days requires for Roopkund Trek: It largely depends on the season when you are trekking and also depend on your starting point.
Accommodation and food during trek: Independent trekkers have to carry their own ration and eatables.  There is a basic lodge at Wan (200 INR per night) and few guest houses in Lohajung who also serve food for you on request.  There are a few restaurants as well at Wan and Lohajung.
While you are trekking you can either pitch your own tents or stay in Fiber huts (approx 300 INR per night). Fiber huts are available on the trail at Bedni Bugyal, Patal Nachni and beyond.
Is Roopkund Trek doable without a trek organizer: Yes, Roopkund trek can be done solo without a trek organizer. You get guides, porters, mules, trekking gears, ration and every other essential once you reach Wan or Lohajung. You can arrange everything after arriving at these base locations and negotiate with them.
Make sure that you are physically fit to undertake this trek because of the high deal of intensity and few steep climbs involved in the entire trek.
Important Notice: High Court ban on camping in Uttarakhand meadows has affected this trek.
A recent High Court order (dated 28th August) has banned camping overnight in the meadows Uttarakhand.